- Summer/Autumn Update
With the uncertainties of covid-19 and Brexit continuing and the changeable weather pattern, what does the shorter term future look like for Dairy?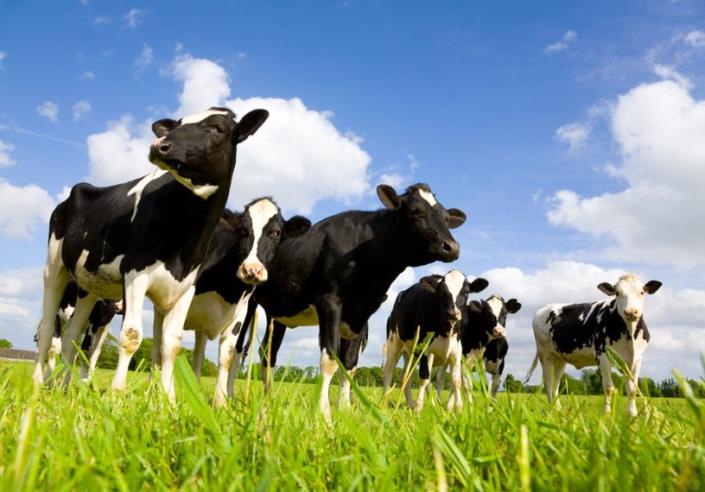 Domestic Challenges - Technical
UK weather and feed stocks continue to remain a concern. A very wet autumn and winter 2019 and a very dry spring 2020 had a negative impact on grass silage and arable crops.
Rain in June helped to mitigate some of the pressure with silage stocks replenished in many areas and quality looking good.
However, the rain didn't hit all parts of the country and there are many businesses still trying to replenish stocks now (Sept 2020).
A later burst of rain allowed many to take a light 3rd cut (or for some a 2nd cut) and whilst quality looks good, there is not much bulk.
As a company we are urging clients to work with us to draw up 'forage budgets' now to determine whether they have enough forage to comfortably feed through the housed period or whether alternative plans need to be put in place.
It may pay to speak to arable neighbours now or forage producers to determine availability and price of wholecrop crops if additional forage is required. Keep an eye on Maize yields and availability as well - the key is to keep discussing winter forage stocks and diets with your consultant.
Grain surpluses in the UK may offer good value winter feed so start looking now to avoid price increases as we get further into the winter months.
Demand dynamics will remain uncertain as domestic retail/food services consumption balance adjusts to the lifting of lockdown.
Trade and Market Challenges
'Out of home' demand for dairy accounts for 20% of dairy consumption.
The easing of lockdown and return of the food services and hospitality sectors over the next 6 - 12 months will have an impact on how the dairy markets recover.
This latest wave of covid-19 will introduce further complications. The food services sector had slowly started to return to a certain level of normality, so only time will tell how this second wave will impact on food services and hospitality. For now pubs and restaurants remain open so this will help to maintain a certain level of demand for dairy products within the food services sector.
No matter what scenario plays out (fast return to the new norm or the slow easing of lockdown - the latter now the more likely scenario) GB milk production will remain in excess of domestic demand through the remainder of 2020 into 2021.
Globally, milk supplies are forecast to increase by 1% in 2020.
Global demand remains subdued for the remainder of 2020, resulting in an increase in stocks and competition in export markets.
A slow down in global economy will restrict consumer spending, thus limiting growth in import demand in countries the UK exports to.
Risks associated with Brexit still remain a serious cause for uncertainty.
Trade patterns will be disrupted as economies recover from the pandemic and also due to uncertainties surrounding Brexit and trade deals.
Looking Forward
For the remainder of 2020/2021 milk production is expected to be reduced by 0.7%.
This is due to lower milk production through the peak period.
Growth in global milk supplies for the remainder of 2020 looks set to remain around 1%.
Global demand is expected to be lower 2020 and 2021.
UK dairy product prices may move out of line with global price trends as the UK adjusts to new trading agreements post Brexit.
For farmers supplying into the food services sector, there is a risk of depressed returns as manufacturers look to recover margins and 'out of home' consumption remains weaker (this will depend on how lockdown is eased - but we are assuming this will be a slow easing).
However, milk is a staple product and it is expected to fare reasonably well in the latter half of 2020.
The domestic demand for liquid milk remains fairly stable which will help stabilise milk prices, but the processed milk sector will have an influence on price and the demand for this very much depends on the speed at which food service and hospitality sectors can return to the 'new norm'.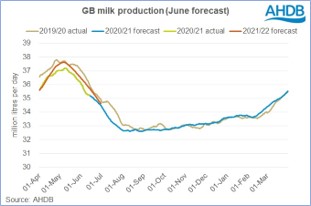 AMPE has been declining through 2020 as the pandemic put pressure on prices of globally traded dairy products. MCVE have remained relatively stable due to strong retail demand offsetting losses from other market segments.
The UK dairy industry faces both the normal challenges of changing consumer demand and unpredictable weather patterns as well as the greater unknowns such as Brexit and the on-going pandemic. With regards to Brexit, we have made a step forward with the first trade deal being negotiated with Japan. This deal looks reasonably positive for UK agriculture, with greater access being granted to many UK exported products. Unfortunately cheese will remain at similar levels to EU access, but this agreement provides a positive first step. Businesses will need to ensure that they have reviewed all current borrowings and liabilities to determine what pressures the business faces and ensure they are ready for the challenges to come.
If you would like to discuss your current business situation or would be interested in carrying out a business review please contact our office and one of our consultants would be happy to discuss your requirements in more detail.
---
Data source: AHDB